Microsoft Teams Premium Service
Daniel Bohan
Sales Manager
Microsoft is set to release a new Teams Premium service next month which will allow you to bring your virtual meeting experience to the next level.
Teams Premium, which is scheduled for a preview release in December, will focus on make your meetings more personalized, intelligent and secure.
Personalised Meetings
Customised meeting guides
Personalise your own branding into meetings
Meeting guides is a new premium feature that will help users pick the right meeting experience from a pre-configured selection. Users can easily select a the right guide for type of meeting they need – like a client call, a brainstorm session, webinar or HR support – and the correct meeting options will already be set at the click of a button. Standardizing and automating meeting guides like this help to ensure that meetings adhere to company best practices and policies.
Another great personalisation with Premium is customised branding. Your branding is important – that's why it's all over your website, business cards, company vehicles, and right on your office door. Ideally, you make sure that your branding is consistently applied right across everything. Your virtual office should be no different. Teams Premium provides the ability to brand the meeting experience with custom logos and backgrounds for the Teams lobby, custom backgrounds at an organizational level and custom scenes for Together mode to infuse your brand into virtual interactions.
Intelligent Meetings
Intelligent recap
AI-generated tasks
Intelligent playback
Personalised insights
Intelligent search
Live translations for captions
Meetings are only good when they are productive. Microsoft has pumped a bunch of AI-driven intelligence into Teams Premium to help make your meetings more productive and impactful.
An intelligent recap will give users personalised highlights from Teams meetings, even if they miss the meeting. AI will suggest assigned action points so that follow-ups are not missed. After the meeting, the recording will automatically develop chapters and insights so you can navigate directly to spots when your name was mentioned, when a screen was shared, or when you left a meeting early so you can catch up later.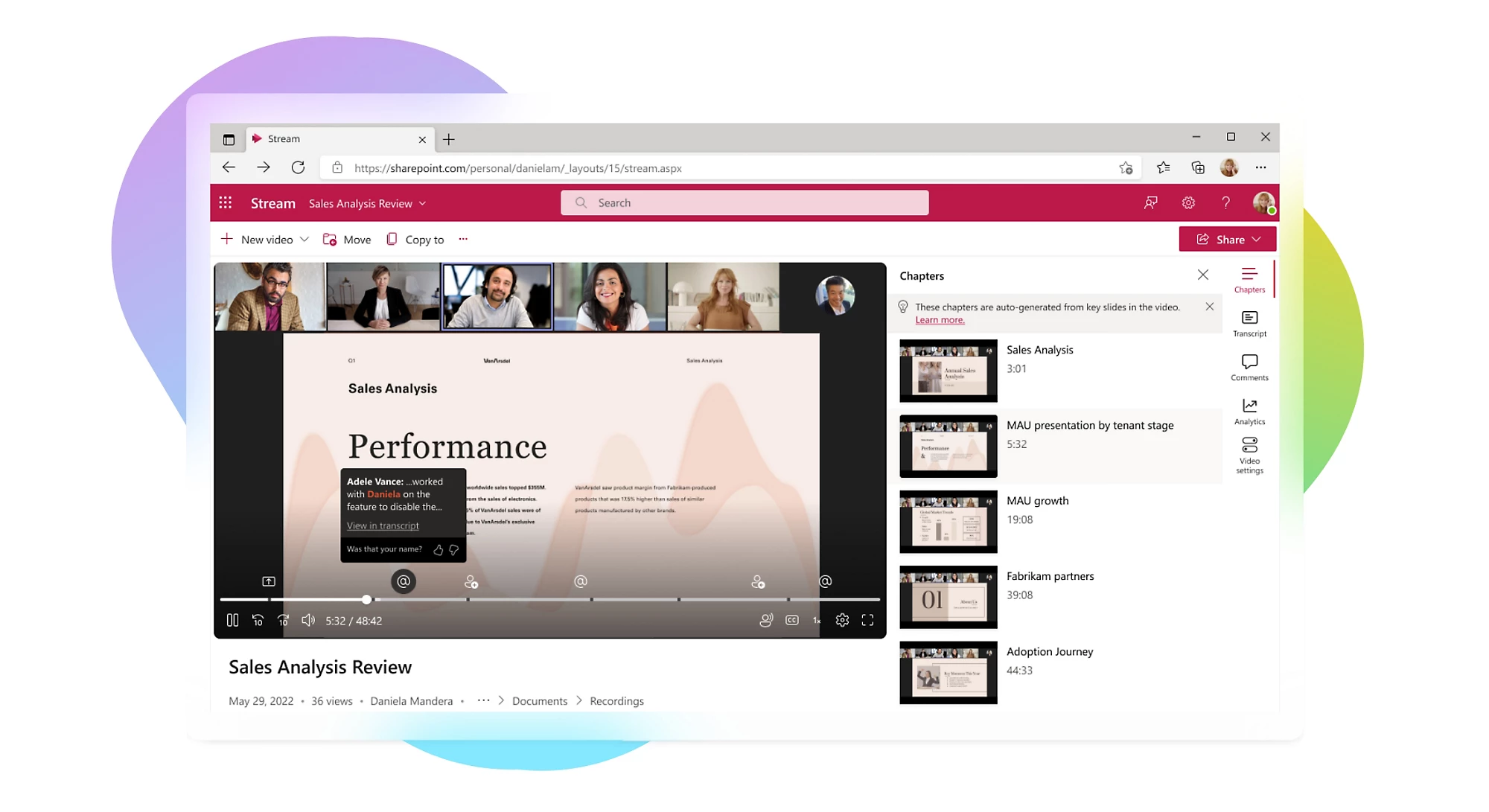 You can also search through transcripts for key information and suggested speakers (like your boss…).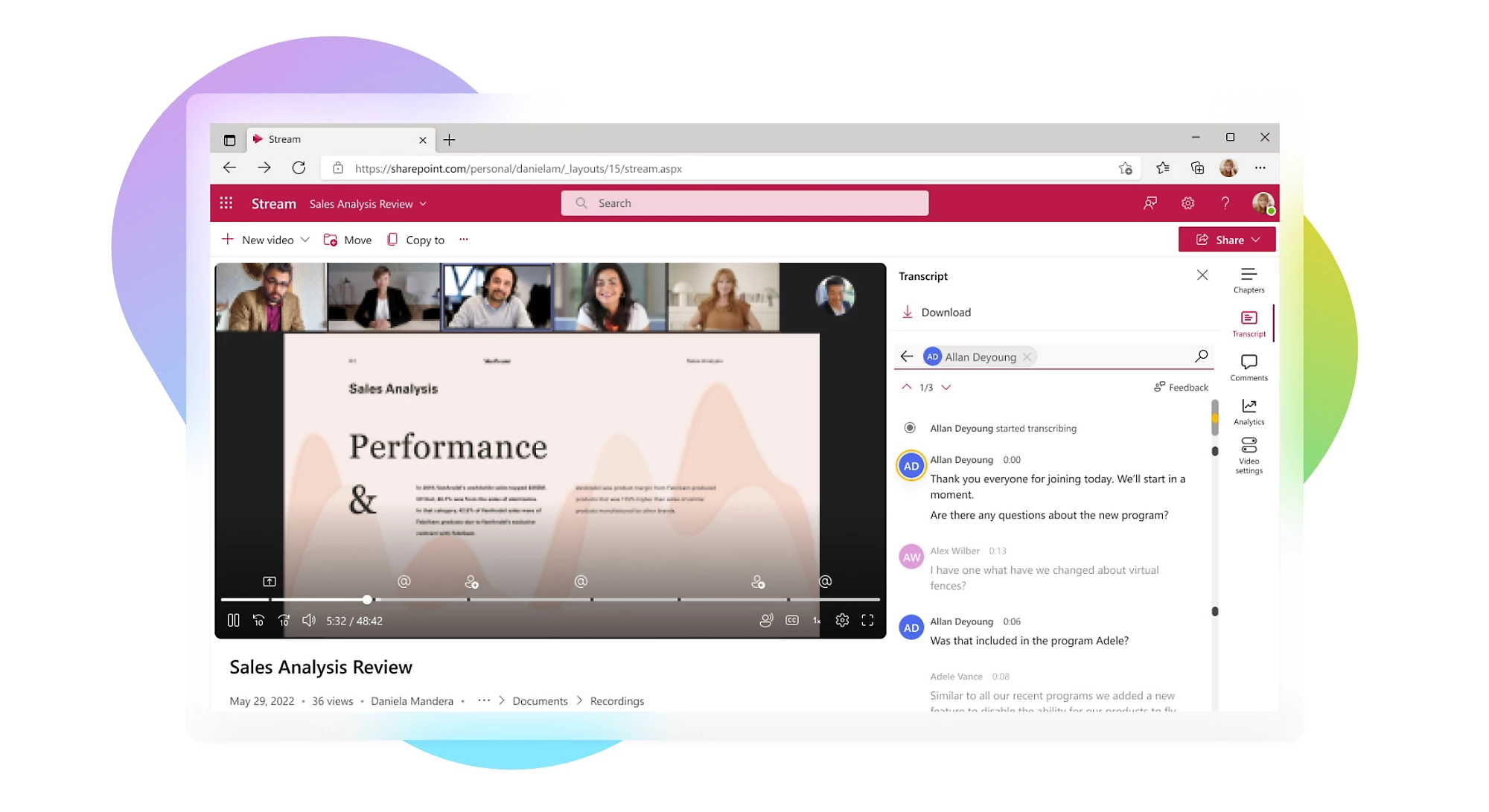 Do you ever have meetings with international participants? Teams Premium will deliver live translation for captions with AI-powered, real-time translations from 40 spoken languages. As long as the host has Teams Premium, all of your meeting participants will actually be able to read captions in their own language in real time.
Secure Meetings
Watermarking
Recording restrictions
Sensitivity Labels (Microsoft 365 E5 users only)
We have a lot of meetings, but it's important to remember that some meetings are more sensitive than others. Board meetings, financial discussions, product launches, HR issues…all examples of meeting that probably need more secure handling to help protect the content discussed and/or displayed.
Teams Premium includes advanced meeting protection options to keep meetings private like watermarking to deter leaks, limitations on who is allowed to record.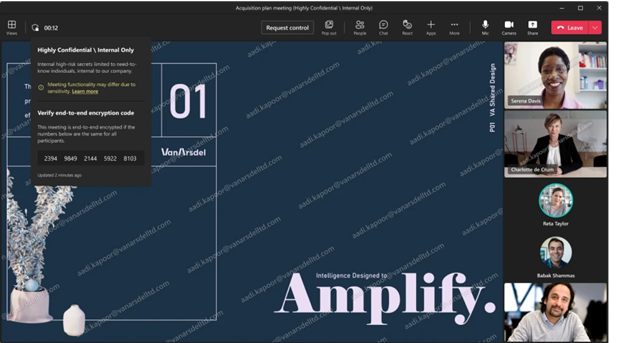 Microsoft E5 users can leverage existing Microsoft Purview Information Protection sensitivity labels to apply relevant meeting options automatically. Setting up protected meetings then is as easy as selecting a sensitivity label you already use to protect sensitive data across Microsoft 365 and letting the automation do its thing from there.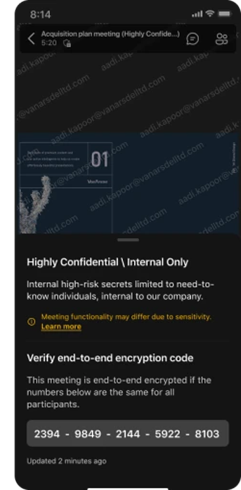 Advanced Virtual Appointments
Customer branded virtual appointments
Text reminders
Appointment management dashboard
Meeting analytics
Sometimes managing a busy schedule of meetings can feel like air traffic control. Teams Premium provides a dashboard app for quick views or deep dives into schedules, queues, and analytics, as well as advanced capabilities like appointment queuing.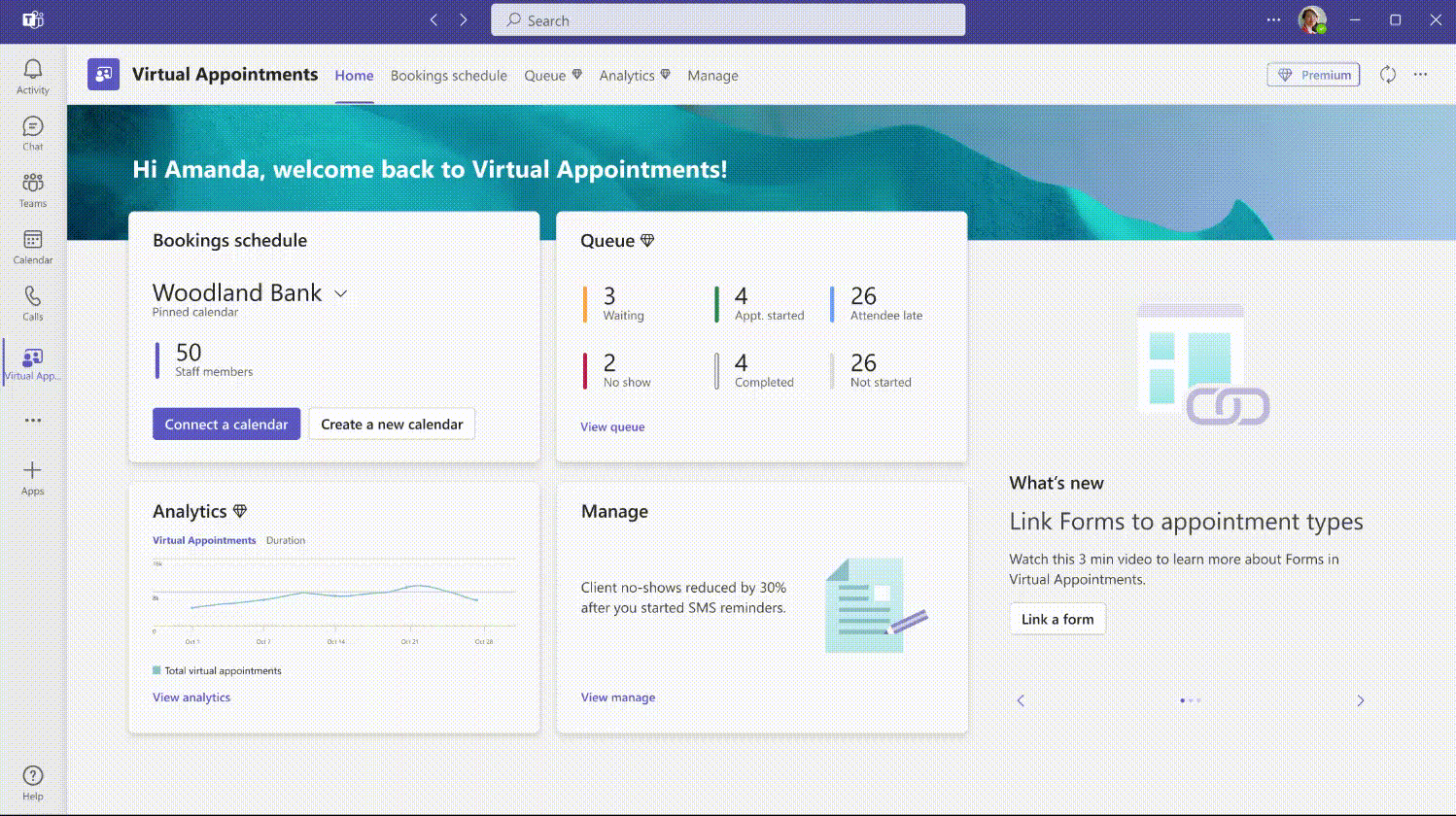 Another great benefit of Teams Premium is the ability to provide your customers with a seamless experience with text reminders and custom branded virtual appointments available through their mobile devices—without needing downloading Teams.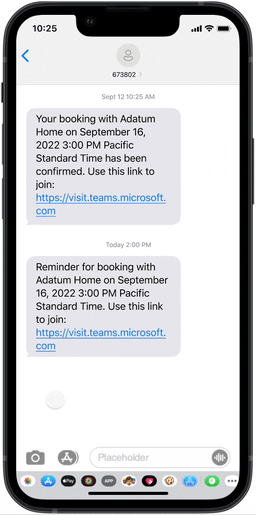 You sit in all these meetings week after week, but do you have any view of customer experience and business outcomes from them? Teams Premium will open that up to you with usage trends and history of virtual appointment experiences and effectiveness like no-shows and wait times with staff-, department-, and organization-level analytics.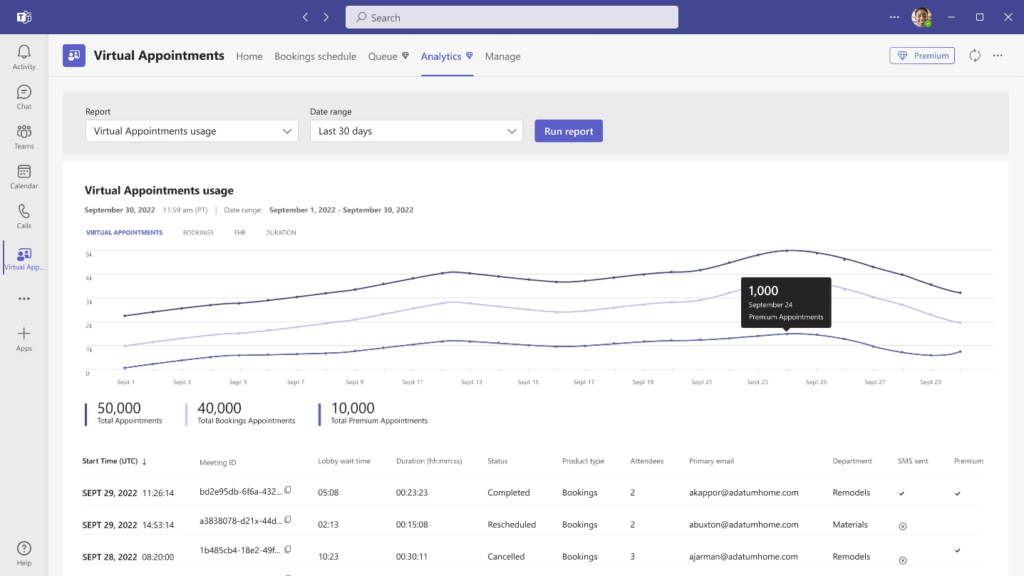 If you're interested, learn even more about advanced Virtual Appointments here.
Bonus Round: Advanced Webinars
Registration waitlist and manual approval
Customize the registration start and end time
Automated reminder emails
Virtual green room
Manage what attendees see
Ok, so hosting webinars is not part of most people's daily routine. However, webinars are a great way of showcasing your products and knowledge, launching a new service, running company-wide presentations, engaging with a wider audience, developing leads, etc.
Teams Premium will expand on the basic webinar capability in Teams by streamlining registration workflows and customising the experience for presenters and attendees.
Enable a registration waitlist and manually approve attendees if new spots open up.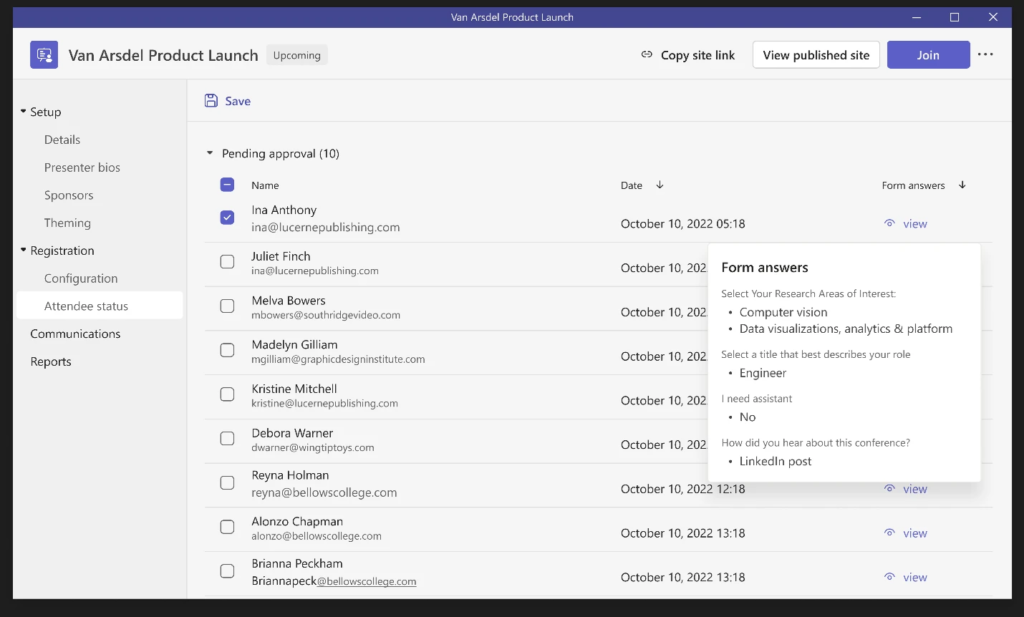 You can also send automated reminder emails to confirmed registrants on the day of the event with a custom-branded header, webinar details, and a link to join the event. This will help keep your attendance up and your participants interested in the event.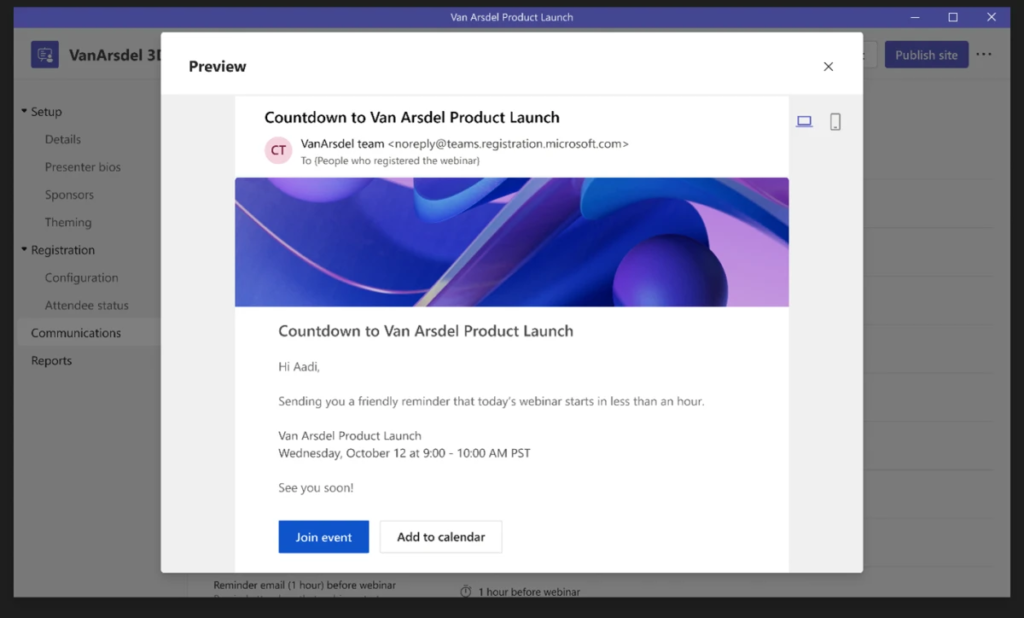 Once you've got people in the webinar, presenters and attendees alike, you want it to be a good experience. Teams Premium will enable the host and other presenters to 'hang out' in a virtual green room – a dedicated space separate from attendees, where you can socialize, monitor webinar chat and Q&A, manage attendee settings, and review content before the event starts.
Attendees will be greeted with a welcome screen and can use chat and Q&A to engage with presenters and each other while they wait for the event to get started. Teams Premium also has some advanced management functions to control exactly what your guests see you don't have to worry about distractions in case someone's video accidentally turns or multiple profile photos of attendees show up on-screen. You get to manage the attendee view so attendees only see shared content and participants you bring on-screen. This can include multiple presenters alongside a presentation slide deck or even an attendee raising their hand to ask a question live in the webinar.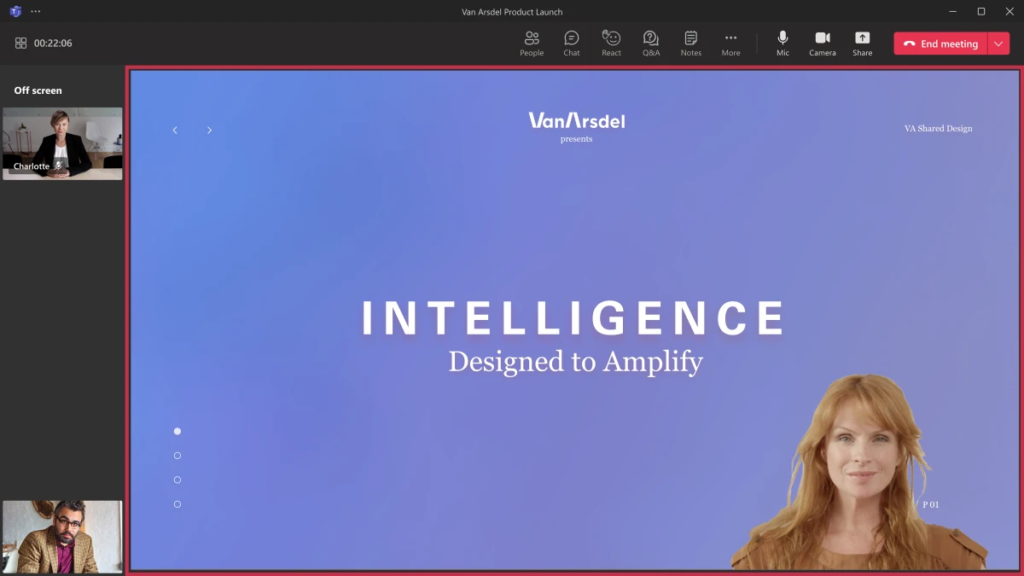 Release Date and Cost
Teams Premium features will start rolling in in preview mode in December 2022. General availability is expected to be in February 2023 with full availability of the new AI capabilities, such as intelligent meetings, coming out in the first half of 2023.
Costs have not yet been released but Microsoft is estimating the Teams Premium add-on will cost $10 USD (about $16.50 NZD) per user per month once it's generally available.
Questions
How is Teams Premium different than Teams?
Teams Premium has all the features that Teams has, plus additional features that help make Teams meetings even more personalized, intelligent, and secure. It also enables premium capabilities for additional meeting scenarios, including Virtual appointments and webinars.
Who is Teams Premium for?
Teams Premium is for organizations that want to get the most out of their virtual meetings by making them more personalized, intelligent, and secure. Customers with Microsoft 365 have the option to use Teams Premium as an add-on license.
How are Teams Premium webinars different from Teams webinars?
New webinar experiences in Teams Premium will help deepen connections and engagement with internal and external audiences. Current webinar functionality includes registration for up to 1,000 attendees, a co-organizer role, interactivity with Q&A, attendee reporting, and Microsoft Dynamics 365 marketing compatibility. With Teams Premium, you'll get advanced functionality, including a registration waitlist and manual approvals, automated reminder emails, a virtual green room for hosts and presenters, and controls to manage what attendees see.