New LinkedIn Integration with Microsoft Teams
Daniel Bohan
Sales Manager
Microsoft bought LinkedIn back in 2016 for USD $26.2 billion in cold hard cash. There was a lot of speculation about the possibilities of integrating LinkedIn with Microsoft 365 but nothing much happened except for LinkedIn details in Outlook contact cards.
Fast forward and now Microsoft has added a LinkedIn integration for Teams.
You can now view a colleague's LinkedIn profile, including current role, past experiences, education, skills, and more right from within Teams chat, channels, calls and meetings.
You can also connect with people on LinkedIn and add to your LinkedIn network without leaving Teams.
Note: Your organization needs to enable the LinkedIn integration in Teams for you to access it. When your organization enables LinkedIn integration, you can access LinkedIn in Outlook too. If you are a Layer3 managed services client, submit a request to enable the LinkedIn integration.
Use LinkedIn in Teams
In Teams, go to any one-on-one chat and click the LinkedIn tab. 

See that person's experience, skills, endorsements, and more.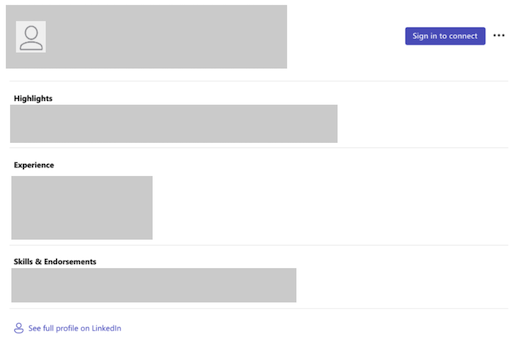 Connect Your LinkedIn and Microsoft Accounts
You can access LinkedIn profiles in Teams without connecting your LinkedIn and Microsoft accounts. But if you choose to connect these accounts, you can discover more about a person in any one-on-one chat in Teams. Find out what you have in common with them, see your degrees of connection, and connect on LinkedIn without leaving Teams.
In Teams, go to any one-on-one chat and click the LinkedIn tab. 

Select Sign in now to connect your LinkedIn account.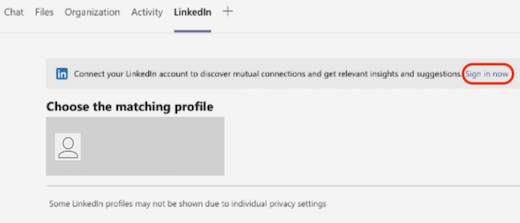 Connect your LinkedIn account to Microsoft apps (Required) 
 
To use LinkedIn in Teams, you need to share your LinkedIn account data with your Microsoft apps. This might make some of your LinkedIn data available to your organization.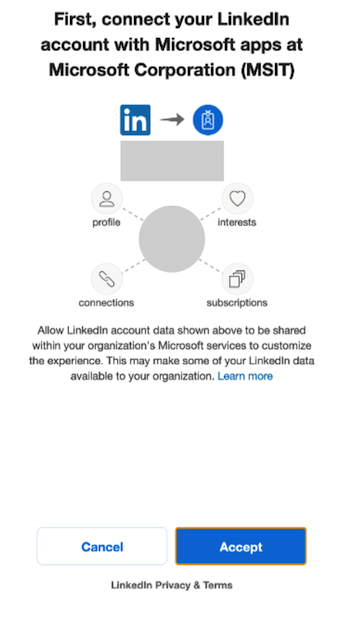 Connect your Microsoft account to LinkedIn (Optional, but recommended for an enhanced LinkedIn experience) 
 
This allows data from your Microsoft apps to be shared with LinkedIn to customize your LinkedIn experience. LinkedIn will import and store your contacts but won't send invites without your permission.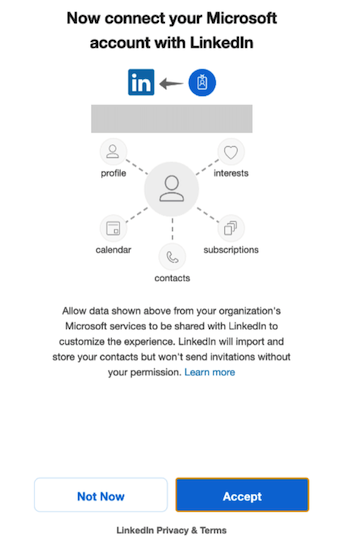 Or, select the profile of the person you'd like to connect with.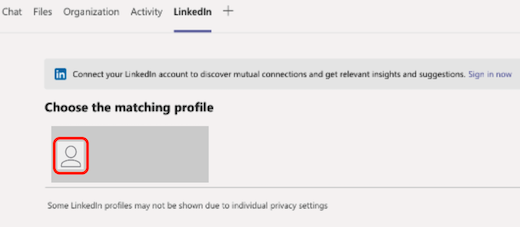 Choose Sign in to connect, then follow steps three and four to connect your Microsoft and LinkedIn accounts. 

Connect with more people using the LinkedIn tab in any one-on-one chat in Teams. 

More Info About Using LinkedIn in Teams
How to integrate LinkedIn account connections 
What info can be shared between LinkedIn and Microsoft accounts?