Microsoft Price Changes Coming 1st March
Daniel Bohan
Sales Manager
Microsoft is making globally to certain Microsoft 365 and Office 365 plans beginning 01 March 2022.
Apologies in advance for the length of this e-mail – we appreciate there is quite a lot of information to digest.
Why are prices increasing?
This is the first substantive pricing update since Office 365 was released in June 2011 and reflects the significant value Microsoft has added over that time. Despite the announced price increases, we believe that both Office 365 and Microsoft 365 continue to represent excellent value for our customers.
Moving forward, Microsoft will charge a premium for month-to-month commitment subscriptions, however we believe the price increase is well worth it to maintain flexibility and reduce subscription anniversary complexity.
Unfortunately, these pricing changes are out of our control and so if no is taken as outlined below, your Microsoft 365 subscription pricing will increase on 01 March 2022 in accordance with Microsoft's new pricing.
What's been added and improved in the last few years?
Since Microsoft launched Office 365 a decade ago, they have grown to over 300 million commercial paid seats working alongside their partners. Along the way, they have continuously re-invested to meet the changing needs of customers. Four years ago, they introduced Microsoft 365 to bring together the best of Office, Windows, and Enterprise Mobility and Security (EMS), adding Microsoft Teams as the only integrated solution to meet, chat, call, collaborate, and automate business processes—right in the flow of work.
Since introducing Microsoft 365, 24 apps have been added to the suites—Microsoft Teams, Power Apps, Power BI, Power Automate, Stream, Planner, Visio, OneDrive, Yammer, and Whiteboard—and have released over 1,400 new features and capabilities in three key areas:
· More security and compliance – much more protection is available in the standard products as well as the various add-ins that we use
· More communication & collaboration – especially in Teams and even in the way we can co-author documents in Office or share them with colleagues
· More AI and Automation – dictation, suggested formats, auto-correction – all designed to help us lift the quality of the work we produce
New Licensing Scheme – New Commerce Experience
Microsoft is changing their current licensing scheme for Microsoft 365 from the Cloud Solutions Provider (CSP) scheme to the new New Commerce Experience (NCE) scheme.
This amounts to an increase in pricing for Business Premium and Business Basic plans. An additional premium will be charged on flexible month licensing. There are also changes to mid-term downgrades (ie. subscription cancellations or adjustments) as outlined in the table below.
A current promotion will allow you to lock in your current monthly pricing for another year on a 12 month term until 28 February.
Cancellation Policy and Mid-term Upgrades & Downgrades
When compared with CSP, major changes are coming to NCE with regards to cancellation policy and mid-term upgrades and downgrades.
When adding a license type, you will have 72 hours to cancel that license before you are billed for the entire term.
You can add additional seats (mid-term upgrades) during the term on all subscription lengths (ie monthly, 12-monthly and 36-month term), however you cannot remove seats (mid-term downgrades) from a particular license subscription on 12-month or 36-month terms.
NCE Term Comparison Table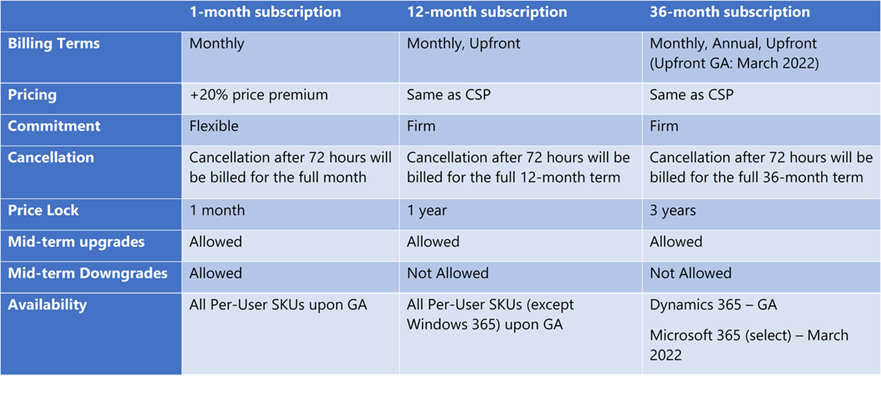 New Plan Prices (as of 1 March 2020)
Business Premium
· Microsoft 365 Business Premium Monthly Subscription: $36.24/month
· Microsoft 365 Business Premium Annual Commitment: $33.22/month (to be confirmed)*
Business Standard
· Microsoft 365 Business Standard Monthly Subscription: $18.90/month (No change)**
· Microsoft 365 Business Standard Annual Commitment: $18.90 /month (No change)**
Business Basic
· Microsoft 365 Business Basic Monthly Subscription: $9.12/month
· Microsoft 365 Business Basic Annual Commitment: $8.36/month (to be confirmed)*
F1
· Microsoft 365 F1 Monthly Subscription: $3.40/month (No change)**
· Microsoft 365 F1 Annual Commitment: $3.40/month (No change)**
*Microsoft has not yet confirmed the exact NZD price for Annual Commitment plans, so the pricing listed above is a near approximation based on the percentage increase taken from US pricing.
**No changes to Microsoft 365 F1 or Microsoft 365 Business Standard.
Promotional Offer
From now until 30 June 2022, a discount will be available on commercial seat-based offers in new commerce, with monthly pricing for 12 month term plans offered at the same cost as the annual term.
This means that if you sign a new 12 month term before the 1 March 2022 price increases, you will be able to lock in your current pricing at no change or another year.
Common Questions
Q: Are there any "exceptions" to the 72-hour cancellation policies for annual or 36-month subscriptions?
A: There will be no exceptions made by Microsoft. They have been very firm with their cancellation policy. Should you need more time to assess the subscription value, Microsoft encourages either a Trial or Monthly Subscription (at a price premium) to ensure you're not locked in for the full term.
Q: Can a customer mix and match – add majority on long term subscription but add month to month on top to scale up and down?
A: Yes, you can mix subscription terms. For example, Full Time Employees can be on an annual subscription and seasonal / casual employees can be on a monthly subscription.
What do I need to do?
You will automatically enroll by default to the new monthly subscriptions at the increased price. If you want to avoid a price increase, you need to move from monthly subscriptions to 12-month subscription.
This will allow you to keep your current Microsoft 365 license pricing. However, it does mean that each user subscription is committed for the full term, even though billing is still charged on a monthly basis.
This means that if you purchase 12-month subscriptions for all your staff, but then lower your staff numbers, you will still have to pay out the rest of the term on the full subscription.
Further complexity is experienced when adding new products (license types) during your term as the new products are not co-termed and will have a different renewal date.
Additional Terms & Conditions will apply to all 12-month subscriptions and it is important to note that you will be contracted for the full value of the subscription to Layer3 as your Microsoft administrator.
What's next?
Our recommendation is to contact Layer3 to discuss your options and the best path forward.
You will soon receive a proposal to renew your monthly Microsoft 365 licensing based on the New Commerce Experience licensing scheme along with some updated Terms & Conditions.
Should you wish to explore a 12 month subscription, or a blend of 12 month and monthly flexible licenses, please let us know.
Still confused? Or want to discuss this further?
We understand there is a lot of information to digest here and that you may wish to explore your options further. If so, contact us at [email protected].