New OneDrive Feature Roundup
Daniel Bohan
Sales Manager
OneDrive just celebrated its 15th birthday, but that doesn't mean it's a lazy teenager. Microsoft has been busy releasing a ton of new features since April. Here's a roundup of what's new.
New OneDrive Home experience
Microsoft has redesigned the OneDrive Home experience to help you easily resume your work and catch up on what you missed while you were away. Soon, OneDrive will surface your most relevant files and list your most recent files along with any activity updates, so you can see everything at a glance and quickly prioritize where to start working.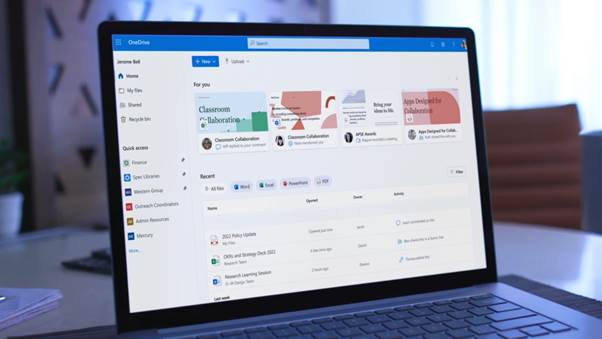 A familiar, consistent experience across all your files
Microsoft has been working on delivering a more intuitive sharing experience across Office apps, OneDrive, SharePoint, and Teams that provides you a quick, robust way to grant access to information, set granular sharing controls, see everyone you've shared files with and manage access settings across individuals and groups.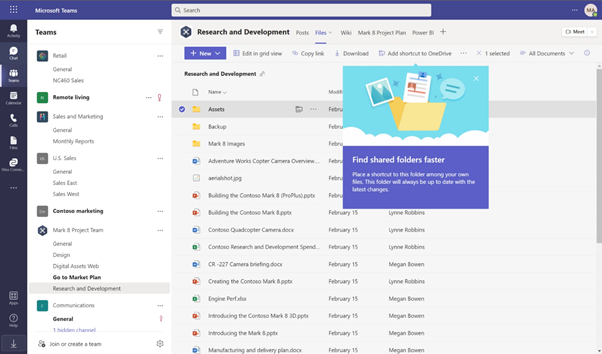 Easily navigate to all your Teams files from OneDrive
OneDrive is adding a "Your Teams" section to the "More Places" page to allow you to easily find and work with all your files in Teams.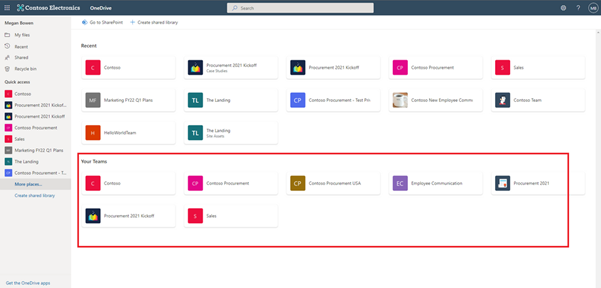 Deleting large folders
To help you keep your workspace uncluttered, Microsoft has added the ability for you to delete large folders (with up to 10,000 items) at one time. This means that when you're finished with a project, you can quickly remove all the files you no longer need from your OneDrive and SharePoint libraries.
Microsoft Stream: Comment on a video or audio file in SharePoint and OneDrive
Users with view permissions can now leave comments in video or audio files. This can be helpful when collaborating on files to share with a larger audience, or for addressing questions of people who were unable to attend a call or meeting.
Shift between work and personal files in OneDrive
It's now simpler for you to switch between your professional and personal OneDrive accounts, or even between separate professional accounts you might maintain for multiple clients if you're a consultant or freelancer. By selecting your profile picture at the top right of the OneDrive page, you'll see a list of all your Microsoft accounts, or the option to add a new one.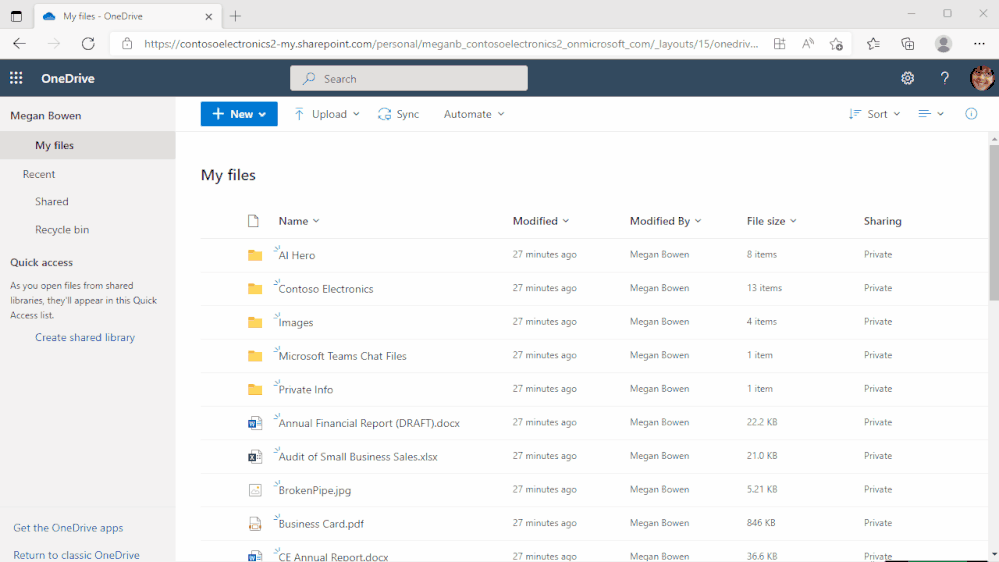 Quickly switch between document libraries
Microsoft has added a dropdown to OneDrive and SharePoint that lets you easily switch between multiple document libraries associated with a Teams team or a SharePoint Site. You can easily select the Dropdown library icon to switch between document libraries.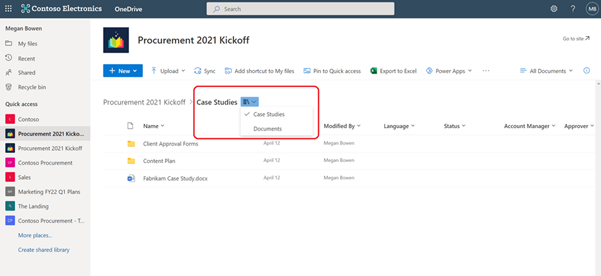 Pin important files to Quick Access
To easily find and access the places where you regularly work, you can pin shared libraries to the Quick Access section in the left nav of OneDrive. Pinning a document library adds it to the top of the Quick Access section. You can also un-pin document libraries from the Quick Access section.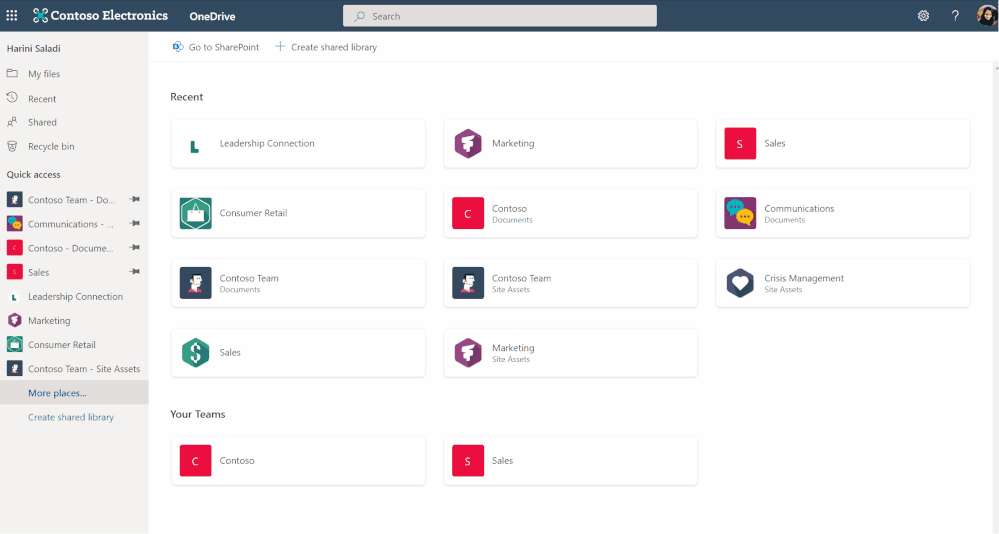 File browsing in Teams
When you browse to a Teams channel and click the Files tab at the top, this experience will now be powered by OneDrive. For example, you'll be able to leverage familiar controls to easily move or copy your file to another library within Microsoft Teams.
You can also switch between document libraries associated with specific Teams channels (standard or private) directly in Microsoft Teams and access your files as you would directly in OneDrive and SharePoint.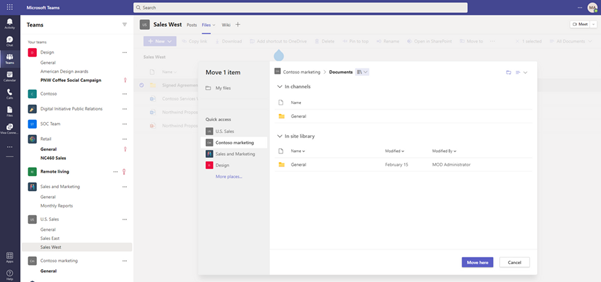 Add to OneDrive in Teams
You can now use Add shortcut to OneDrive in Teams to give yourself quick access in OneDrive to the Teams files you work with most frequently. Any changes that occur in Teams are also synced, so your files are also up to date. This feature helps you keep all your files organized in one place, no matter where they are stored.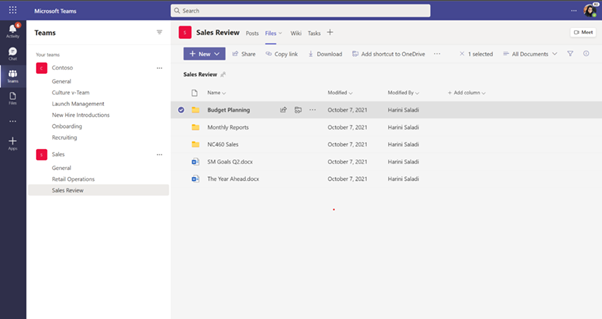 Rename shortcuts
Microsoft has added the ability to rename shortcuts you've added using the "Add to OneDrive" feature within OneDrive web.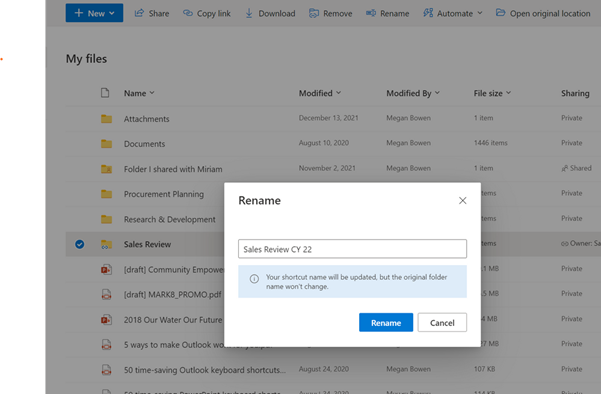 Access your Teams standard and private channel files
When you navigate to a site in SharePoint or OneDrive, you'll be able to access the files stored in the Teams standard and private channels associated with that site.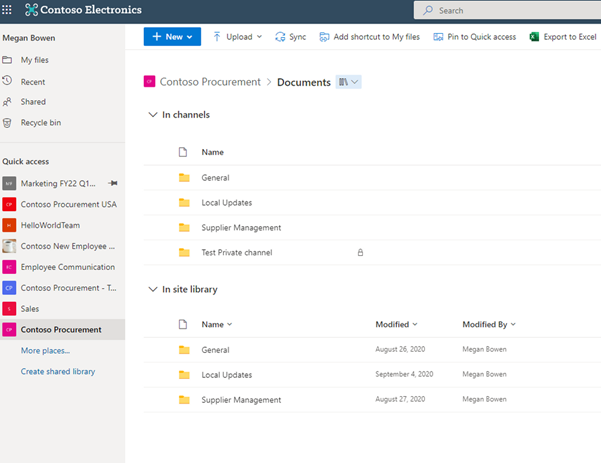 OneDrive File Picker v8
The OneDrive File Picker lets you connect your custom web apps to content stored in OneDrive (both the commercial and business versions) and SharePoint. With File Picker v8, you can integrate directly with the Microsoft 365 service, saving you complexity and time during the development phase and providing your users with the same rich, familiar user experience of OneDrive or SharePoint. Users who are already logged into Microsoft 365 can seamlessly access files and content through your web app, without having to log into the Microsoft 365 account a second time.